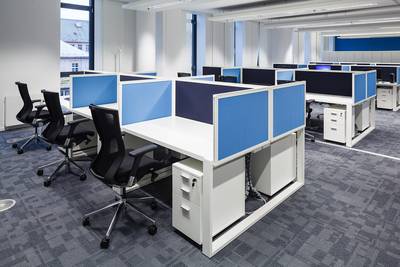 WOT around the world
When our design director was asked about the name of our new desking system he didn't hear properly and replied 'What'? Well Techo always sticks to its word so that was it. Anyway, it sounds better than the originally proposed "universal desking system".
For a long time we had wanted to produce a desk with a "bulk" top, but were dissuaded by the amount of material involved. That is until now! The design team (ADR with Hans Verboom) have engineered a clever solution – a sandwich desktop with honeycomb core and integrated support frame. This means a 35% reduction in material requirement and enables the use of recycled material. The desk itself is 100% recyclable at the end of its useful life. A green solution that does not compromise the design or function of the desk. The result is also a desk with clean and elegant lines – it sits comfortably in a modern or a more traditional office environment. As you would expect from a modern desk, there is the option of advanced cable management whilst it comes as standard with a "look" that is destined to become a classic. Just be careful next time you are asked about the name of one of your products. A misunderstanding could infringe our copyright!
In addition to the desks, WOT also offers its own storage – cabinets and pedestals that provide personal space, liven up the office and meet the needs of a modern company.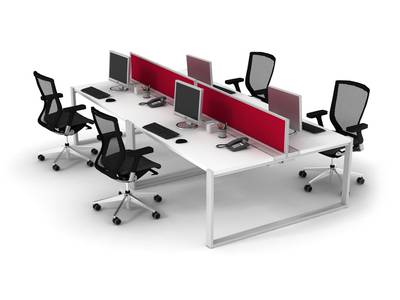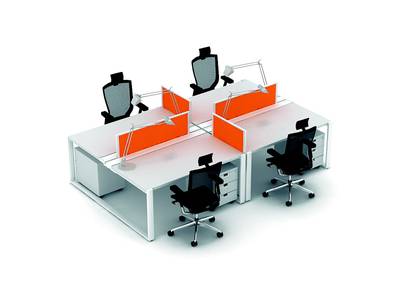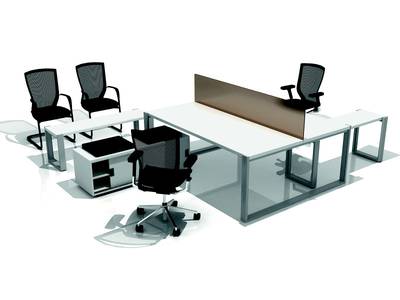 A unique feature of the WOT Universal Desking System is the design and method of production of the desktop. The MFC (melamine faced chipboard) commonly used for desktops has been replaced by a "honeycomb top" (LIGHTBOARD) with HPL foil and ABS edge 2 mm. Advantages of this construction method are its unbeatable strength combined with relative lightness. The 40 mm thick desktops are self supporting and therefore the desk does not require a separate frame. Customers will also appreciate the range of sizes available thanks to the aluminium profiles used in the construction. A further important feature of the WOT design is that it is environmentally friendly. The desk system is made partly from recycled material and is itself 100% recyclable. Advanced cable management is offered as an option. The base is given a high-quality powder paint coating.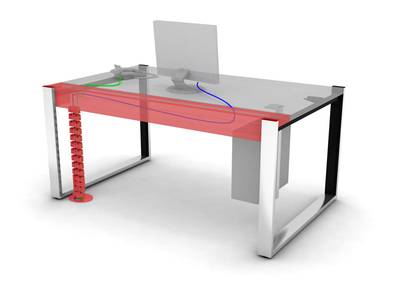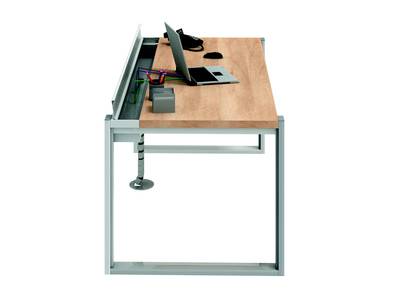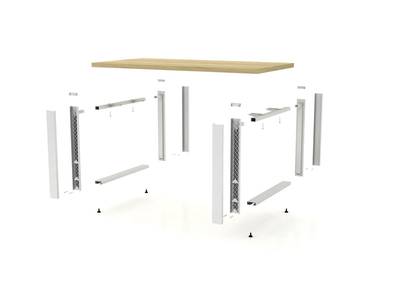 Petr Kolář, Aleš Lapka
Since it was founded in 1996 by a pair of authorized architects ČKA, Aleš Lapka and Petr Kolář, besides the design of furniture, it focuses mainly on projects of reconstruction, interior design and exhibition. One year after its founding, ADR won its first Expoimage Award, awarded by the Design Center of the Czech Republic, and it was definitely not its last success. In 2014, for example, she won the International Hotel Awards in two categories - Best Hotel Maldives and Resort Hotel Maldives. In addition to the TECHO showrooms, the ADR studio is also the designer of other TECHO products.
Technical details
Honeycomb top" (LIGHTBOARD) with HPL foil and ABS edge 2 mm.Metal base finishes

Thickness 40mm

The aluminium profiles used in the construction is finished with a high-quality powder paint coating

Decors and colours
Colour finish of base
RAL9010 – white

RAL9022 – silver

Desktop finishes
W400 – white

R5413 – wild pear
Options
A bench workstations
A conference table version is also available

The availability of a range of dimensions incl. conference size (see the technical manual in the download section)

A wide range of accessories available – screens incl. Holders, vertical and horizontal cable management, CPU holders

Combining with WOT pedestals and storage products to create a unified workstation

Need more information?
Where to go next?