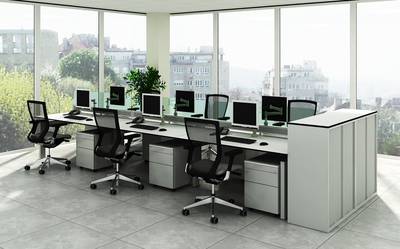 A desk without end
It is said that the bench style workstation has its origins in the offices of British architect Sir Norman Foster at the end of the 1990s. He would move around the office sitting next to the different members of his design team, and came to the conclusion that this kind of teamwork would be much more effective on a single "never-ending" desk. The Platform open desk system allows the creation of flexible workstations. The system is suitable for various types of workplace such as - Hot Desk, Call Centre, Team Office. Platform encourages communication and interaction between workers – it promotes teamwork. It can also be divided using screens to create closed workstations for a variable number of workers. The micro-architecture of these workstations is complimented by a range of office accessories, monitor arms, CPU holders etc. It has a clever central cabling system for both power and data (connecting PC, laptops, phones etc.).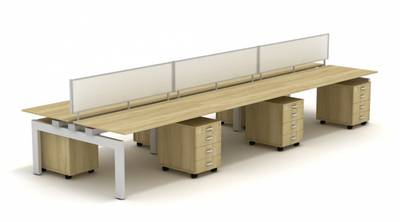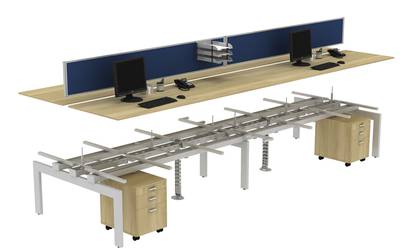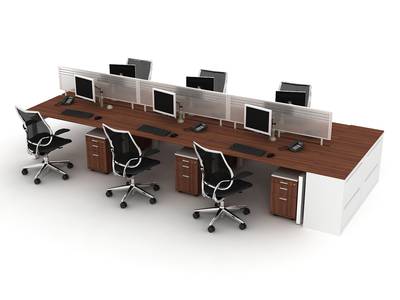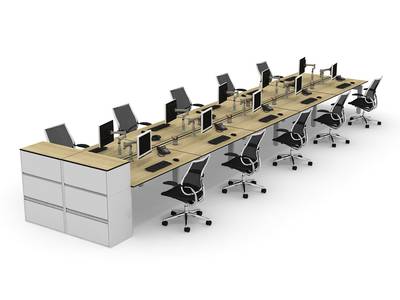 The Platform desk system is an open and flexible workplace option. It provides a flexible number of workstations in one desk assembly. It is suitable for various types of workplace – Hot Desk, Call Centre, Team Office. The Platform system comprises a metal base supporting a wood-based worksurface. The metal base is made from steel profile components attached together with fastenings. The metal base is protected with a high-quality powder paint coating in RAL colours. The worksurfaces are made from 18 mm thick MFC with 2 mm ABS edge or from 17.6 mm Ekotech with black edges and which come in grey, beech, wild pear and white.
The EKOTECH worksurfaces are made from MDF boards faced with HPL. Characteristic of this worksurface is the chamfered edge which optically supports the slim appearance of the desk system. The desk is 735 mm high. The micro-architecture of this work space is created by a range of accessories such as screens, TECHO office accessories, monitor holders, CPU holders etc. It has a well thought out cable management system – not just for power but also data connections (connections for PC, laptops, telephones etc.).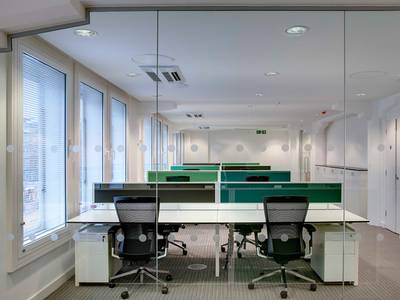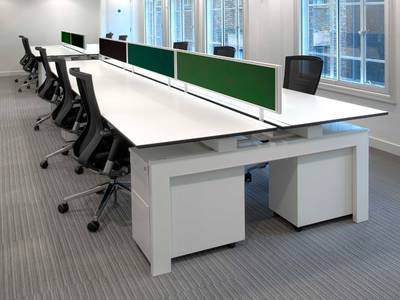 Craig Jones
"Design is about searching for excellence - fulfilling the client´s brief, but also looking beyond the bare specification to incorporate feelings as well as perhaps things that the client didn´t realise he needed. This synthesis of design brief and designer inspiration can result in something special that stands apart from other products. Such products stand the test of time and become classics."
Technical details
Laminated desktop with 2mm ABS edge

Levelling of the desk: 735 - 750 mm

The base is finished with a high-quality powder paint coating

Decors and colours
Desktop colours:
We offer a wide range of decors from suppliers Egger, Pfleiderer and Kronospan.
Base colours:
Options
Hybrid version with pedestal supporting the desk at one end
Accessories are also available such as screen holders, cable channels, integrated power supply

Part of the desktop can be raised to give better access to the cable channel

It can be combined with TECHO pedestals and storage systems to create a workstation unit

Need more information?
Where to go next?