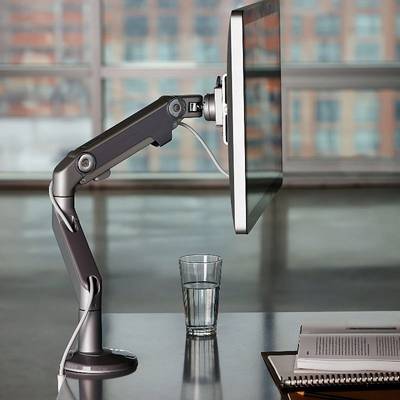 By redefining the capabilities of a monitor arm, Humanscale created the M8, which combines incredible weight capacity with a stylish, slim profile. Like all of Humanscale's best-selling monitor arms, the M8 allows the user to work in a healthy posture through setting one or multiple monitors at an optimal distance and height. Collaboration is made easier through effortless screen sharing and increased desk space.
Through its fusion of flexibility and strength, the M8 accommodates any single or dual monitor configuration weighing up to 40 lbs. Unlike other high-capacity monitor arms with bulky designs, the M8 offers easy adjustment and flawless ergonomic function in an articulating monitor arm.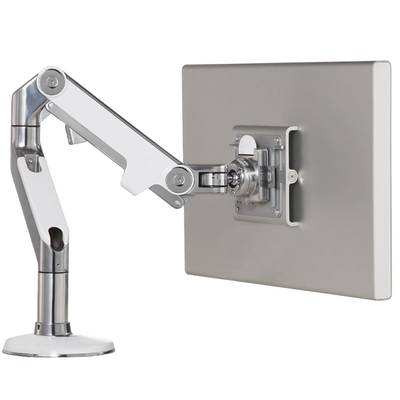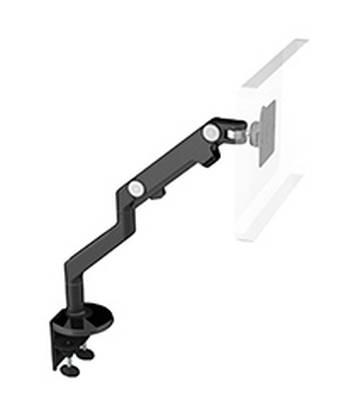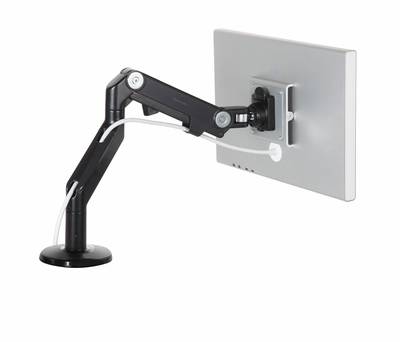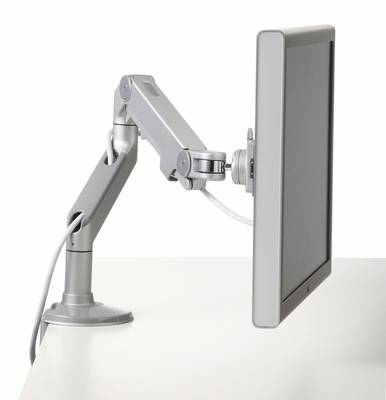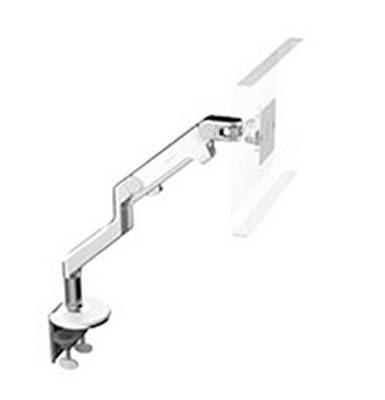 Thanks to a clever combination of friction axles and an internal counterbalance mechanism, the M8's robust design easily accommodates heavy monitors while also providing the flexibility to support monitors weighing as little as 8 lbs. The M8 is versatile enough to meet the ever-changing demands of today's workplace.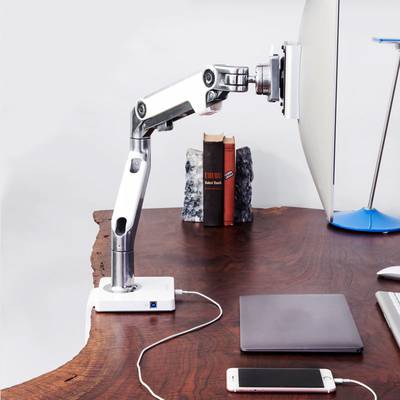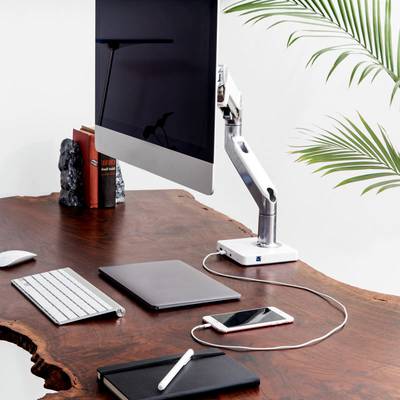 Adaptability
The M8 monitor arm can handle the vast majority of monitors on the market today. With the ability to hold single monitors ranging from 8 to 40 lbs., the M8's high weight capacity also makes it ideal for supporting dual-monitor applications. Using an optional crossbar support, the M8 accommodates two monitors each weighing up to 20 lbs.
Robust Construction, Effortless Movement
The M8 features considerations like a quick release ball joint for easy monitor installation and removal and an integrated cable management system. It also has a 180-degree stop mechanism that prevents wall damage from over rotation.
Plug-and-Play Customization
Like all of Humanscale's monitor arms, the M8 features interchangeable links for additional reach. Customizable add-ons include clamp, bolt-through, universal slatwall, and wall stud mounting options, as well as an optional notebook holder. VESA plates support all monitors with 75mm and 100mm VESA hole patterns. M8 is also compatible with M/Connect™, a USB 3.0, monitor arm base and docking station that eliminates desktop clutter, conceals IT connections and provides easy access to user ports.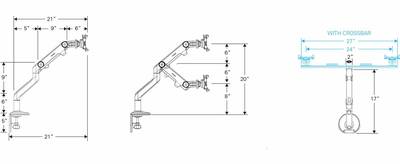 Humanscale Design Studio
Located in the New York City headquarters, Humanscale Design Studio is a powerhouse of designers, engineers and prototypists from around the world. The team also regularly collaborates on projects with acclaimed industry figures. Abiding by the philosophy that good design achieves more with less, the team specializes in solving functional problems with simple, efficient designs. A holistic approach is taken to ergonomics, with the user experience and interaction with the product front of mind.
The design team's award-winning innovations are backed by their thorough research into workplace trends and by working closely with Humanscale's inhouse team of ergonomics consultants.
TECHNICAL DETAILS
Monitor Weight Range: 8-40 lbs
Max Arm Reach: 24"
Max Height Adjustment – 12"
Monitor Capacity: 1 or 2
OPTIONS
Polished Aluminum with White Trim
Silver with Gray Trim
Black with Black Trim
Need more information?
Where to go next?