Designed to suit a range of settings, the M2 allows the user to bring their work to them, versus having to adjust to a static monitor stand. M2's articulating arm options offer effortless height and depth adjustment, and support a wide range of flat-panel screens that weigh 3.6 – 9 kg (8 - 20 lbs.).
Instead of using a gas cylinder to counterbalance the weight of the monitor, the M2 monitor arm uses extension-spring technology. Without clunky mechanisms to complicate the design, the M2 offers uncompromising, long-term durability and an ultra-thin design that complements flat-panel monitors and attachments for a truly flexible workstation.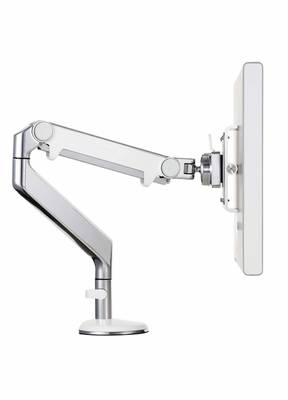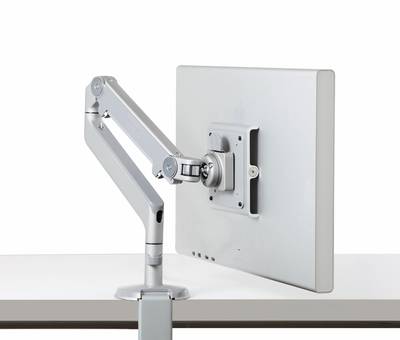 The M2 embodies what a monitor arm should be, allowing the user to work in a healthy posture by setting the monitor at an optimal distance and height. Collaboration is made easier through effortless screen sharing, and desk space is increased. The M2's seamless cable management and minimal design enhances the look of any workstation.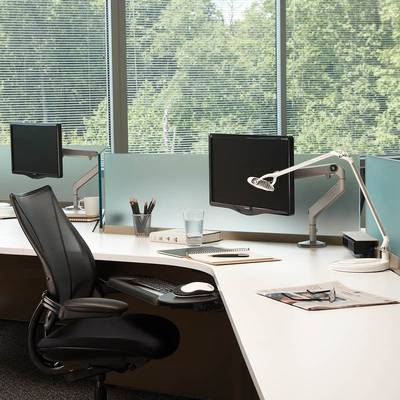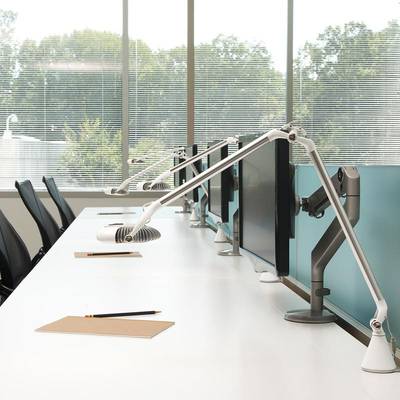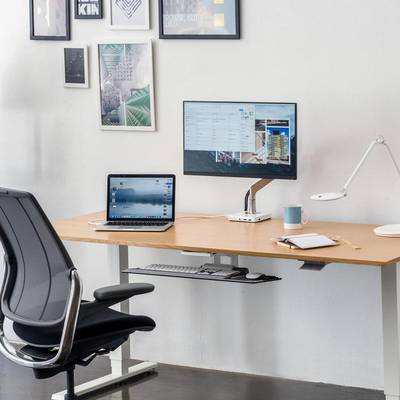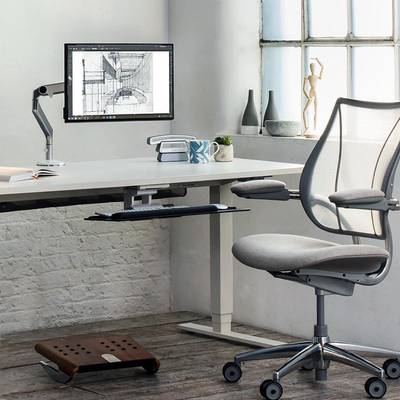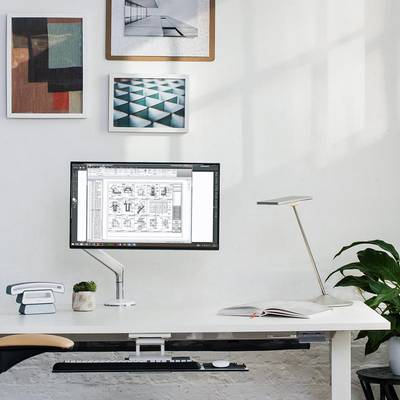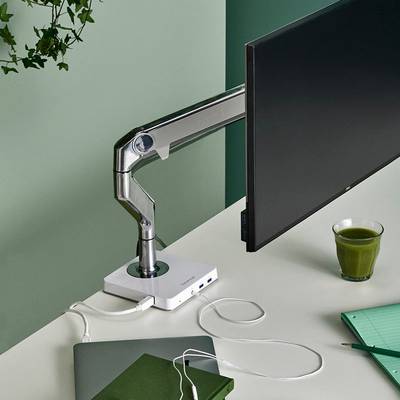 Less Is More
Made of steel and aluminum, M2 has fewer moving parts than other articulating monitor arms and no gas cylinder. This means an ultra-thin profile and longer life span than traditional gas-spring models. While quality and longevity are guaranteed, every M2 monitor arm is backed by Humanscale's robust 15-year, 24/7 warranty.
Flexible Intuition
With an arm reach of 510mm (20"), height adjustment of 255mm (10") and an additional 305mm (12") link, M2 also features a removable 180-degree stop that protects walls and panels. Offered with flexible arm options that can support monitors weighing 1.8 - 9 kg (4 to 20 lbs.), the M2 is one of the most versatile monitor arms available.
A New Level of Customization
Add-on options include multiple surface attachments and the M2 Light, a notebook holder that can accommodate 9"-14" laptops. Interchangeable mounting options, such as clamp, bolt through and slatwall mounts, and a variety of VESA plates to accommodate multiple monitor types, are also available. For an even more enhanced computing experience, M2 can be paired with M/Connect™, a USB 3.0, monitor arm base and docking station that eliminates desktop clutter, conceals IT connections and provides easy access to user ports.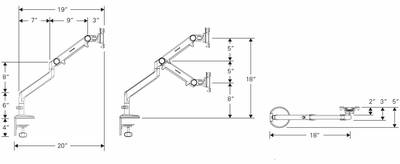 Humanscale Design Studio
Located in the New York City headquarters, Humanscale Design Studio is a powerhouse of designers, engineers and prototypists from around the world. The team also regularly collaborates on projects with acclaimed industry figures. Abiding by the philosophy that good design achieves more with less, the team specializes in solving functional problems with simple, efficient designs. A holistic approach is taken to ergonomics, with the user experience and interaction with the product front of mind.
The design team's award-winning innovations are backed by their thorough research into workplace trends and by working closely with Humanscale's inhouse team of ergonomics consultants.
TECHNICAL DETAILS
Monitor Weight Range: 4-20 lbs
Max Arm Reach: 24"
Max Height Adjustment – 10"
Monitor Capacity: 1
FINISH OPTIONS
Polished Aluminum with White Trim
Silver with Gray Trim
Need more information?
Where to go next?