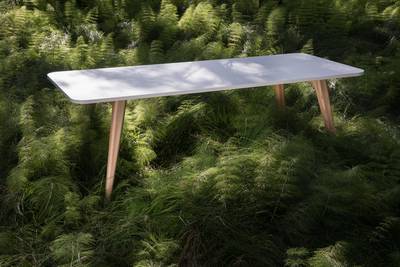 The Forum conference table dispels the standard notion of what office furniture should look like. Its uniqueness of appearance is derived mainly from the solid ash legs, which brings a touch of nature to the meeting room, and creates a very pleasant and homely environment for work and personal meetings. Despite its robust appearance, the table maintains a very modern and minimalist design, which makes it the ideal choice for every interior.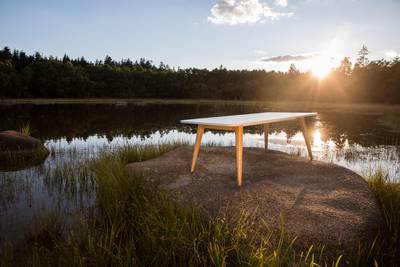 The base comprises longitudinal stretchers and end legs from solid wood (ash), which enable the table to look at home in both commercial and domestic settings. Steel structural elements are inset into the wood and these ensure a firm connection with the lengthways supports. The chipboard-based table top with HPL has plastic edges. For a higher standard appearance the laminate PerfectSense Topmatt is available as an option, which provides exceptional resistance to fingerprints, wear and tear and scratching.
Hans Verboom
This Dutch designer, after studying at Delft Technical University, has been a member of Ahrend's design team for office furniture and equipment. For the eighteen years, he operated his own Nomino company, which worked on design and production of custom furniture. Among its clients were companies such as Eromes, TECHO, ABNAMRO, FDmediagroep, Voortman, KPN, Artwright Kualalumpur or Gemeente Leiden. Three years ago, Verbo became an independent designer, and he also worked with Archie-bv, Amsterdam's metal furniture factory. Hans Verboom is a key designer for TECHO products.
TECHNICAL SPECIFICATION
Minimum desk dimensions:
1000 x 1000 mm (width x length)
Maximum desk dimensions:
1400 x 3000 mm (width x length) – standard MFC
1300 x 3000 mm (width x length) – Topmatt
Laminated table top with ABS edge 2 mm
Metal parts of the base are finished with an epoxy polyester powder coating
MATERIAL FINISHES
Table top finishes:
We offer a wide range of decors from leading suppliers Egger, Pfleiderer and Kronospan.
Colour finish of base:
End leg sets
Metal items
OPTIONS
Two table top options
Available in a range of sizes (see technical manual in the Downloads section)
Accessories are also available such as screen holders, cable channels, power sockets, horizontal clips
Need more information?
Where to go next?